7706-ULF Integrated Fire Monitoring System
6-Zone conventional FACP with Integrated AES fire alarm communicator.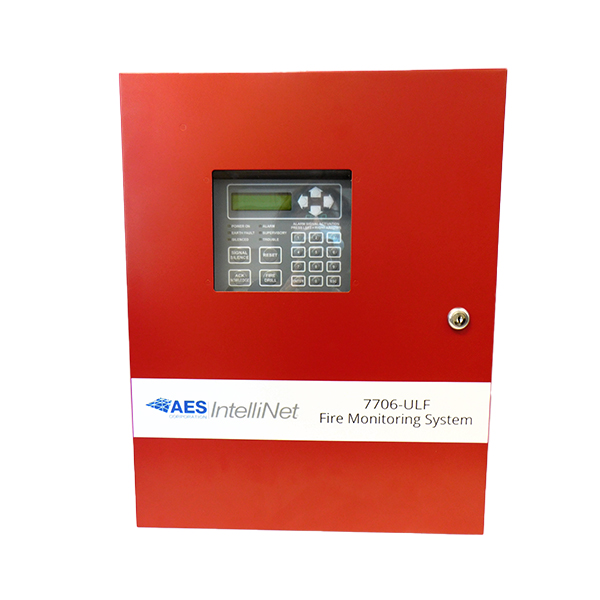 The 7706-ULF is a conventional FACP with an integrated AES IntelliNet communicator. Has 6 programmable zone inputs and 1 notification appliance circuit (NAC) with strobe synchronization.
Benefits
This system reduces installation time and costs by integrating the AES IntelliNet technology with the Potter conventional fire panel. Ideal for small to mid-size monitoring applications.
Dimensions 18.5"H x 14.25"W x 4.75"D
Weight Approx. 17 lbs., excludes battery
Radio Frequency N/A
Antenna N/A
Power Output N/A
Power Input 120VAC 60Hz 1.0 AMP
Recharge Capability Enclosure capacity for two 14AH batteries. Will charge up to two 18 AH batteries. Sealed lead acid batteries – requires 2 each 12 VDC UL-recognized
Backup Battery N/A
Alarm Singnal Inputs - 6 Programmable Initiating Device Circuits
- 1 input – Type A (four wire) or Type B input (two wire)
- 5 inputs – Type B
Antenna Cut/Communication Trouble Output N/A
Antenna 2.5 dB tamper resistant enclosure mount antenna
Antenna Supervision N/A
Reset Button N/A
Operating Temperature 32° to 122°F
Storage Temperature 14° to 140°F
Relative Humidity 0 to 93% RHC, Non Condensing
Ports 1 Ethernet Port
Annunciator Remote Annunciator via the P-Link bus
Compatible Receivers 7705i and 7705ii AES-MultiNet
Current Consumption See AES 7706 Battery Calculator (add link to calculator)
Smoke Detector Compatibility Compatible with a large number of listed 2 wire models including:
System Senor, Detection Systems
ESL, Hochiki, Fenwal, Potter
NAC Output Compatible with a large number of listed 2 wire models including:
Amseco, Gentex, Potter/Gentex, Eaton, Cooper, Wheelock
System Sensor
NAC Patterns Temporal & Cadence patterns
Enclosure Material Steel
Enclosure Color Red
Visual Indicators LCD (2 × 16 Alphanumeric Character Display)
LED indicators – Control Panel and Subscriber
Programming Interface Laptop via ethernet using Potter programming software or integrated keypad
Meets NFPA 72 specifications and UL 864 standards
6 Programmable Zone Inputs
Integrated conventional FACP
Hardware Supervisory Module (satisfies full data primary communication requirements)
7794 AES IntelliPro full data module
Dual Communication/Multiple communication technology (reporting over RF and IP)
Integrated Local Annunciator
Secure Dealer Codes to safeguard critical data
32 Character LCD display with system LEDs for clear system status and Keypad access
One Notification Appliance Circuit (0.5A NAC) with strobe synchronization
2.5 dB rubber duck antenna
Programming via Laptop ethernet using Potter programming software or integrated keypad
LED indicators – Control Panel and Subscriber